Add Productivity And Efficiency With These Braided Tinsel Wires
Posted on Mar 1, 2021
Applications which require high mechanical flexibility but low current carrying capacity make use of Tinsel wire. It is produced by wrapping several strands of thin metal foil around a flexible nylon, textile or tin core. This core provides high tensile strength without impairing flexibility. Once the processing is over, it passes through the process of braiding to give Braided Tinsel Wire.
Multiple tinsel wires are jacketed with an insulated layer to form a conductor and several such conductors will form a chord. It is commonly used in cords of telephone, handsets, headphones and small electrical appliances. They are malleable and resistant to failing because of metal fatigue resulting into durable and the most flexible wires.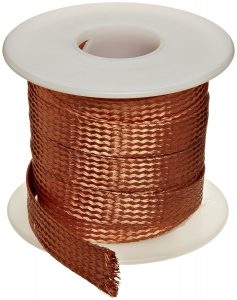 Tinsel wires are available in shapes and sizes which can be put to multiple uses in electrical and electronic applications. Their endurance and sturdiness is much higher than bare wires. They can withstand any kind of temperature as they are basically copper wires soldered with tin which make them resistant to corrosion and tough weather conditions.
Braided Tinsel Wire is equipped with qualities that lead to enhancement of those properties which will boast of manufacturing most efficient and productive wires. They are not only crimp free and adaptable to different metallic surfaces but are also endowed with much better resistance than a normal wire. This makes braided Tinsel Wire an ideal choice that withstands metallic devices of high or low conductivity.
These wires usually come in strips which are acclaimed for their optimum functionality in the global market. They are used in production of speakers, loudspeakers, tweeter coils or telecom cable. They are also considered to be the best choice of wires in marine industry, musical instruments manufacturing industries or telecommunication. As they are made from electrolytic grade pure copper foils, they are not only flexible but also break resistant.
While making purchases for braided tinsel wires online, keep in mind the following points:
1. While browsing through search engine, look for the rating and reviews of the companies that you have found suitable to deal with. Your search should be based on the experience and expertise mentioned by the company along with proper credentials to support their version.
2. Check their suppliers, trading affiliations and what the other customers have to say about this company.
3. Compare the prices and check the specification as well as the raw material used. Here it is also important that you must know what is required by you so that you can make relevant inquiry. A little knowledge of the terms used for particular products will make your search more productive.
4. Check their customer dealing policies and then take your decision. It is important to know if the company provides warranty or if they customise their products according to the specifications required by you. Does their manufacturing unit has the latest machinery or they quality check their products or not?
All this and much more is expressed in a transparent manner by the company of credibility and repute such as Ganpati Wires. Your search ends here with us as we ensure quality and safety to the optimum level.