Why are Copper Glass Wires So Much in Demand?
Posted on Feb 6, 2019
Copper has always been treated as the ideal metal possessed of high electrical and thermal conductivity along with being ductile, tensile, durable and long lasting which has been extensively used in modern electrical applications. Copper wires and cables are most in demand by the consumers as they are considered to be tremendously trustworthy and dependable in their applications and usages.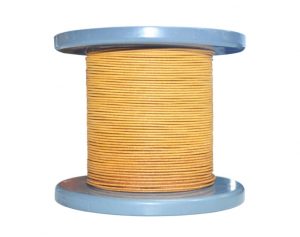 Insulated copper wires definitely are better protected against corrosion, especially if they are covered in glass fiber. These wires have picked up market and gained popularity which is escalating by the day. The major reason behind this emerging, rather established trend is that the bare copper wire or cable in the stranded, bunched form remains intact, away from wear and tear as it is safely insulated or wound over with this glass which is in fact glass sheaths.
They prove their efficient use in the places which experience temperature variations much too often or places which are immensely cold. Space shuttles, electric heaters, high voltage motors, marine motors, IT data centers and space observatories are a few places where Glass Copper Wire can be said to be of great use. These wires can resist heavy pressure and can still sustain their functioning. This is due to its method of coiling and lay out design which makes it stable and dependable.
Being so well insulated, their functioning does not experience any kind of issues like being moist, dirty or bacteria infested which can create trouble for a bare solid or stranded wire. It would not let any electrical hazards happen as the glass sheath reduces risks of shocks, etc. since the non-porous glass tape does not let any such faults happen. They are equipped with high durability and can tolerate overload or voltage fluctuations.
Copper glass wires are laced with incredible qualities and properties which include smoothness and high grade transmission of information without too much interference, making them a favourite with telecom industries as they are using the technologically advanced fiber optics method which employs fiber glass wires. They also do not let the confidential data or information to be leaked in any manner as they are immune to electromagnet interference. Their flexibility and reliability are added assets, giving them much higher and bigger potential in comparison to normal wires because of their broader capacity.
We manufacture copper glass wires which are finding extensive uses in the market over the years. Glass wire has definitely become the solution for the places with extreme and adverse climatic situations as well as where safety of data transmission is the priority. The best part happens because of the metal that we are putting to use in manufacturing these wires and cables.
Copper contributes in making this wire an effective and impactful source of energy which has gifted the electrical and electronic world a new and right direction. We are known for supplying only the premium quality products and our copper glass wires too are manufactured keeping in mind the same ethics and principles that make our name as one of the leading ones.
Visit Ganpati Wires and find the difference.