Braided Copper Wire: Understand The Benefits And Uses
Posted on May 3, 2019
In the recent years, braided copper wire has gained quite a bit of popularity in the electrical industry because of its toughness and easy to handle feature. Copper wires are good conductors of electricity and are also high heat and corrosion resistance. These properties make braided copper wire the best choice for industries that manufacture electric appliances. With the team of committed professionals, Ganpati Wires has been producing premium quality of braided copper wires in different shapes and sizes according to the requirement of their customers. They use ultra-modern technology with high quality copper to manufacture the best braided copper wire needed for any electric appliances producing industries.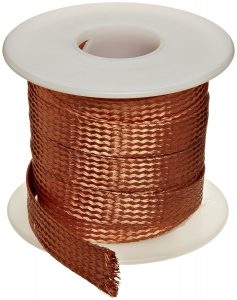 Features of Braided Copper Wire
• Minimizes energy loss
• Superior corrosion resistance
• High tensile strength
How are braided copper wires made?
Strands of copper wire are weaved together to form a copper braid. While braiding, silver coated copper wire, tin coated copper wire and other similar type of copper wires are used. The quantity of braiding wire may vary according to the usage type. When the diameter of the copper wire is small, it has more flexibility which helps to make premium quality of braided copper wire.
Braided Copper Wire Usage
• Highly used in the manufacturing of electrical appliances with low and high volt.
• Ideal for manufacturing electrical devices used in mining explosions.
• It is used as flexible connector for storage battery.
• It is used in the manufacturing of proof switches.
• It is also used in automobile industries and marine industries.
Benefits of Braided Copper Wire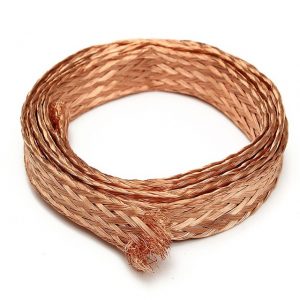 • Braided Copper Wire is made of strands of copper wire weaved together. This makes it extremely flexible & malleable and can be used in various electrical appliances.
• It has even more corrosion resistance and malleability feature which makes it resilient to tearing. That's why it is widely used for making power cords.
• Appliances that have to face heavy vibration use braided copper wire for durability because of the wire's flexibility and long-lasting nature.
• Braided copper wire is easy to handle and as compared to single strand of copper wire or solid copper wire.
• It is much more economical than other cables like coaxial cables and gives efficient performance.
• Due to the strength and flexibility of braided copper wire, it is the best choice for electronic devices, circuit boards, robotic and vehicle applications.
• Braided copper wire provides low resistance path to the ground ensuring minimal heat generation. This can prevent hazardous situations in near future.
• If a building has used braided copper wire, the risk of being hit by lightening is highly reduced.
Braided copper wire is beneficial in many ways; hence it is more popular all over the globe. It's easy to use without the risk of being quickly damaged and is economical too. However, it's important to use the best quality of braided copper wire to get the desired results and output. For this, visit Ganpati Wires and select the best ones according to the requirements.